Our Lady of Weight Loss Review: Healthy Choice Greek Frozen Yogurt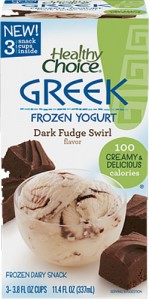 The PLUS:  At a mere 100 calories per pre-portioned serving, I found Healthy Choice® GREEK Frozen Yogurt, Dark Fudge Swirl to be creamy and tasty.  It did satisfy the "cold, creamy, sugar" craving.
It is made with yogurt cultures, with 4 grams of protein in each serving.  Protein generally keeps you satisfied for longer periods of time and takes more energy to digest than fat!
The MINUS: The side of its beautifully designed box reads, "Legend has it that chocolate was the prize awarded to honor great speed by Hermes, Greek God of Sport.  One taste of our dark fudge swirl, and you'll be running back for more!" 
While I love the graphic and the "story",  I find it to be a bit of an exaggeration.  Best to manage your "dark fudge swirling" expectations.  The swirls are more like threads or strands.  Not my idea of a swirl!
Bottom Line:  If creamy, frozen desserts are your thing; then stock your freezer with these Healthy Choices Greek Frozen Yogurt pre-portioned treats!  AND limit yourself to one serving per day.  A real treat!
3.5 Yums!
Want a $1 off coupon??? Who doesn't?
Disclosure:  I am participating in a Vibrant Influencer Network Healthy Choice campaign.  I have been provided with free products and remuneration in exchange for my honest opinions about the products.  All opinions are my own and were not influenced, nor reviewed by Healthy Choice prior to posting.
For more Yummy Reviews, laughter and fun: join Our Lady of Weight Loss's Club:  Kick in the Tush Club/Facebook!
Spread the word–NOT the icing!
Janice
Dictated but not read by OLWL.  Excuse all typos