Eat This: Lose Weight – Thanksgiving Latkes, a MUST!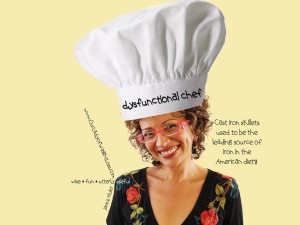 Bubala, sweetheart, darling, did you know that the first day of the eight-day Jewish festival of light, Hanukkah, falls on  Thanksgiving!  It is a once-in-a-lifetime happening!  The last time Thanksgiving and Hanukkah overlapped was in 1888 and the next time it is to happen is in the year 76,695!  Can you imagine!!!
Therefore, I am suggesting that we add Latkes to our menus!  Latkes are to-die-for delicious Potato Pancakes.
Here, a healthful and 5 Yum Our Lady of Weight Loss approved version of the Latke!  Baked, not Fried!
Oven-Baked Latkes
Ingredients:
4 medium baking potatoes
1 medium, Vidalia onion (sweet)
1 large egg
2 egg whites
1 tsp baking powder
3 tbsp all purpose flour
salt and pepper, to taste
Sour cream
Caviar or Lox
Instructions:
Preheat oven to 450F.
Line a baking sheet with aluminum foil and lightly grease with oil or cooking spray.
Wash and dry potatoes (no peeling necessary!)
Grate, using a coarse grater.
Peel onion and grate with coarse grater.
Combine potato and onion in a colander firmly press down to remove excess moisture.
Place "the combo" in a medium sized bowl and stir in egg, baking soda, flour, salt n' paper.
Using a fair sized spoon (a nice sized serving spoon; bigger than a tablespoon) drop "the mixture" onto the baking sheet, thus making 3 inch pancakes that are approximately 1/4 inch thick (more or less).
Thing is that the pancakes should be the same size, so when you plate them, it's all aesthetically appealing.
Bake for approximately 18 minutes, until the bottom of the pancakes are light brown.  Turn pancakes over and baked an addition 12 minutes, until golden pretty and cooked through on the other side!
Serve hot with a dollop of sour cream on top, a dollop of caviar or maybe even a little applesauce.  Delish!!!
For more delicious wellness, join Our Lady of Weight Loss's Club:  Kick in the Tush Club/FB!
Spread the word–NOT the icing!
Janice Taylor
wise * fun * utterly useful