Eat This: Lose Weight – Cold Cucumber Soup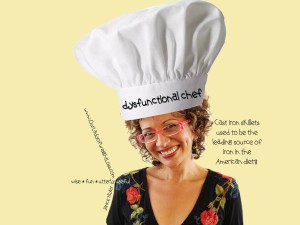 This Dysfunctional Chef has been experimenting with cold cucumber soup. Woo Hoo, Yahoo and Lah-Di-Dah!   Most recipes that I've stumbled across, tripped over and dipped my Dysfunctional tasting finger into include heavy cream or olive oil and I get why.  Creamier, tastier, but still–not how I want to cook or blend in this case.  So, I substituted light cream for heavy cream.  Feel free to experiment with half n' half, and let us know what happens!
Heavy cream / 38% fat
Light cream / 20% fat
Half 'n Half / 12% fat
Ingredients:
3 large cucumbers, peeled, seeded, diced (English cukes are fab)
(1/2 cup set aside for garnish)
3 cups plain yogurt
1/4 cup light cream (more or less, depending on how thick you like it!)
juice from 3 large fresh lemons
2 green onions chopped
2 cloves garlic, minced
1/3 cup loosely packed dill
1/4 cup loosely packed parsley
salt n' pepper to taste
Garnish:
Sprinkle 1/2 cup cucumber
Directions:
Blend all ingredients in blender or in food processor until creamy.  Chill overnight.  Mix/beat/blend together just before serving.  Garnish with cuke.
Feel free to share your cucumber recipes!  For the best in weight loss and wellness wisdom, join Our Lady of Weight Loss's Club:  Kick in the Tush Club/Facebook!
Spread the word–NOT the icing!
Janice
Dictated but not read by OLWL.  Excuse all typos!