Slim Down…while you Laugh It Up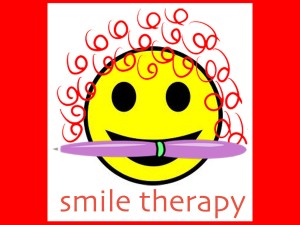 When was the last time you had a side-splitting belly laugh?  A tear inducing, stomach aching, diaphragm exercising laugh?  I can tell you when I did, for sure, because I was ever so grateful for it, into it, aware of it and one with it!
It was a mere 10 days ago.  I was floating happily, dog-paddling, bobbing up and down, swirling around in the most magnificent pool on this planet.  (Well maybe it's not, but it sure feels that way to me!)  Someone said something funny (probably me, 'cause I tend toward funny), and just as the funny hit the air, my friend, Betsy (you may have heard me mention her before–she's a great cook and "my" best Gazpacho recipe hails from her kitchen) floated past me within earshot and started to laugh.
Betsy has an infectious laugh, a magnificent laugh and I caught it.  And then she caught my laughter, and upped the ante, and we played the chortles back n' forth, more and more hysterical with each volley, until we were hurting and crying!  Ahhhh…shared lunacy, sheer happiness!  Simply delicious!
Laughter not only promotes happiness, as the body responds to it by releasing dopamine (one of the happiness hormones), but it boosts the immune system and reduces pain and stress!  Laughter promotes good health by warding off anger and aggression, and it communicates good will.
Assuming you'd like to laugh too, here, from Our Lady of Weight Loss, she who is dedicated to "lightness," nine tips that she believes will activate your humor gene!
1.  Keep an Eye Out and an Ear Open for Humor.   There are all kinds of absurd, silly things going on around you all day long. A friend recently reported seeing a sign outside a local church: "Don't let worries kill you. Let the church help." (Come on – that's funny and it was right there in front of her!)
2. Invest in a joke book. Weave one-liners into your conversation. I'm not gaining weight; I'm retaining food!
3. Find yourself a funny friend or two. Or better yet, do as my husband did (lucky man), find yourself a funny partner.
4. Trade in coffee breaks (smoking breaks) for humor breaks. Tell your boss that in lieu of smoking, you're cultivating your funny side and will henceforth be taking a humor break twice daily. I'm sure he or she will find that very amusing!
5. If you hear it – write it. If someone says something funny, write it down. You can use it later on someone else! You know, pass the laughter forward!
6. Put a post-it on your refrigerator, your computer and bathroom mirror. "Slim down while you laugh it up." It may take a few weeks before it becomes a habit.
7. Eliminate late night sadness. Do not under any circumstances watch the news or read the newspaper or partake in anything that makes you feel sad or unhappy late at night. It's a sure buzz kill. Sweet dreams require sweet thoughts.
8. Fake it till you make it!  Smile and laugh even if you're feeling miserable. Your brain will pick up on the smile cue and feel better.
9. Sign up for a Kick in the Tush!  Our Lady of Weight Loss's (almost) weekly e-newsletter is side-splitting funny!
For more chortles, giggles and laughs, visit Our Lady's club:  Facebook/Kick in the Tush Club!
Spread the word … NOT the icing,
Janice Taylor
wise * fun * utterly useful
Dictated but not read by OLWL.  Excuse all typos!