Puzzeled? The Empress-Creativity, Abundance, Sensuality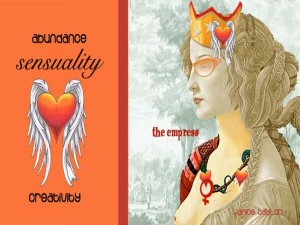 How to utilize this week's Get Jiggy Weight Loss JigSaw Puzzle, inspired by The Empress, to manifest abundance, sensuality, creativity as well as inner and outer beauty!
1.  As you click through The Empress, become aware of your body, as it is right now.
2.  Visualize your most idealized image of self, drawing in energy with every breath and every 'click,' drawing from your own inner power.
3.  Imagine the contour of your face, your arms and your upper body, lower body, legs and feet; outlining your self in your mind's eye, clicking all the while, feeling the positive energy flow up and down throughout your body.
4.  Your radiant Inner Light is beginning to glow. So much so that others can see it; so much so that others connect to it and find you compelling.
5.  Visualize yourself at your ideal, healthy weight, enjoying well-being, health, popularity, success, and love.
6.  As you continue to imagine, to visualize your healthy self, know that you are calling upon the strength within, the beauty within.  See yourself committing to molding, shaping and becoming your ideal self.  Enjoy radiant health.
7.  Take in a deep belly breath, and as you continue to click, on the exhale, in your mind's eye, chant your affirmation, "I am calm, I am centered, in balance and beautiful."
This week's Get Jiggy Weight Loss JigSaw Puzzle:  The Empress-puzzle
This week's Get Jiggy e-PostCARD to inspire your friends and family: The Empress-postcard
For more jigsaw fun, healthy living, giggles, chortles and laughs, visit:  Facebook / Kick in the Tush Club
To feed your soul and change your weight–sign up for my workshop at Rowe Camp & Conference — FEED YOUR SOUL, CHANGE YOUR WEIGHT–the weekend of March 29-31 at Rowe Camp and Conference Center, in Rowe, Massachusetts (the Berkshire Mountains; unbelievably, stunningly beautiful) for what is sure to be a mind changing, life changing, enlivening experience.  Feed Your Soul at Rowe!
Spread the word–NOT the icing!
Janice