Jigsaw Puzzle: Wake Up Thinner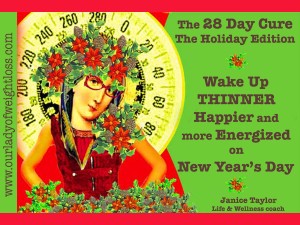 The 28 Day Cure, Holiday Edition, starts tomorrow, December 4, first thing in the morning.   As you click through this week's Get Jiggy Weight Loss JigSaw Puzzle, "The Thinner Puzzle," imagine waking up on New Year's day thinner, happier and more energized.
Hungry for the full skinny about the 28 Day Cure?
Want to send The Thinner Puzzle e-card to a friend?
To discuss how to wake up thinner and more, join with us:  Kick in the Tush Club on Facebook and be sure to reserve your seat at the Holiday Diet table! REGISTER NOW!  Expect a miracle!!!
Spread the word–NOT the icing!
Janice