#EatTHIS: #LoseWEIGHT – 5 Yum #FlatNotFat Belly Chili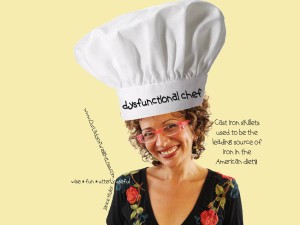 This recipe, Flat not Fat Belly Chili, is one of my favorites, because it is, of course, a 5 yum dish.  And, as most of the ingredients are already stocked in the pantry, it's quick n' easy to whip up!
Serve with the grain of your choice and a nice mixed green salad, and voilà, you've got an Our Lady of Weight Loss approved feast!
Flat not Fat Belly Chili
Ingredients:
1 lb. ground turkey
1 large chopped onion
3 T. chopped garlic
3 T. chili powder (or to taste)
1 can tomato paste
1 can stewed tomatoes
1 can kidney beans (washed and drained)
2 T. organic sugar
2 T. cinnamon
Salt & pepper to taste.
Instructions:
Brown turkey, and onion and garlic.
Sauté until almost cooked.
Add the rest from your ingredients list.
Simmer until hot.
Adjust seasonings to your preference!
For more feast worthy 5 yum dishes, join Our Lady of Weight Loss's KICK in the TUSH Club/FB now!!!
Spread the word–NOT the icing,
Janice Taylor, Life & Happiness Coach, Author, Artist, Positarian
wise * fun * utterly useful