Eat This: Lose Weight – Curried Chicken Salad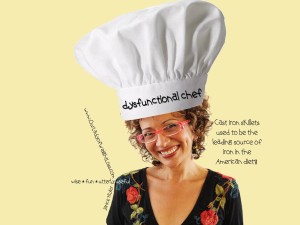 Who doesn't love a great tasty one bowl dish?  For sure, this Dysfunctional Chef is in favor of this tasty, healthful, happy one dish delight!  Mix up a batch or two.  Serve on a bed of lettuce.  A 5 yum salad for 2!
Curried Chicken Salad
Ingredients:
1/4 cup finely chopped celery
1/3 cup dried cranberries
3 tablespoons plain Greek yogurt, low fat
2 tablespoons sliced scallions
2 tablespoons reduced-fat mayonnaise
1/2 teaspoon curry powder
1/4 teaspoon garlic powder
salt n' pepper to taste
1 cup chopped, cooked chicken breast
1/4 cup pine nuts
1 cup greens
Instructions:
In medium size bowl stir together all ingredients, except greens!  Toss with love.  Place mixture on top of bed of greens.
For more incredibly delish delights, join Our Lady of Weight Loss's Club: Kick in the Tush Club/FB.
Spread the word–NOT the icing!
Janice Taylor
wise * fun * utterly useful