Dysfunctional Chef: Sweet Potato Custard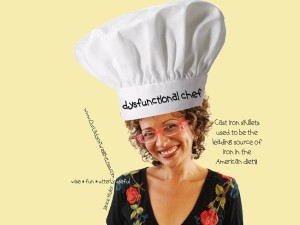 Our Lady of Weight Loss's Sweet Potato Custard (SPC) is the perfect dessert for your holiday party!   I've been searching through my recipe cards (so old school of me — recipes on paper — looking for something that lights up the happy food neurons in my brain, and I found it!!!   Try SPC, you'll love it!!!
SWEET POTATO CUSTARD
1 cup mashed cooked sweet potato
1/2 cup mashed banana (about 2 small)
1 cup evaporated skim milk
2 Tbsp packed brown sugar
2 beaten egg yolks (or 1/3 cup egg substitute)*
1/2 tsp salt
1/4 cup raisins
1 Tbsp sugar
1 tsp ground cinnamon
Nonstick spray coating
Instructions:
In a medium bowl, stir together sweet potato and banana.  Add milk, blending well.  Add brown sugar, egg yolks or egg substitute, and salt, mixing thoroughly.
Spray a 1-quart casserole with nonstick spray coating. Transfer sweet potato mixture to casserole.
Combine raisins, sugar, and cinnamon; sprinkle over top of sweet potato mixture.
Bake in a preheated 300°F oven for 45 to 50 minutes, or until a knife inserted near center comes out clean.
Makes 6 Servings.
For more delish recipes and conversation, visit Our Lady of Weight Loss's Kick in the Tush Club/Facebook!
Spread the word–NOT the icing!
Janice