Dysfunctional Chef: Mexican Chili Corn Pie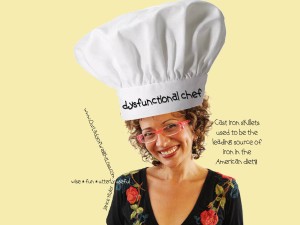 I totally blew the fat cells from everyone's mind when I delivered this incredibly tasty and beautiful Mexican Chili Corn Pie to the table.
In other words, it looks as good as it tastes and visa versa!  Try it, you'll love it!
Mexican Chili Corn Pie
Ingredients:
1 tablespoon olive oil
5 garlic cloves, crushed (I love garlic; if too much for your taste, reduce amount)
1 red pepper, de-seeded (duh) and diced
1 green pepper (same)
1 cup celery, diced
1 tablespoon hot chili powder (I also threw in a tablespoon or two; maybe three of hot chili paste – for those who really like it hot)
1 15-oz can of corn, drained
1 15-oz can of tomatoes, diced (NOT drained)
1 15-oz can of kidney beans, drained
1 tablespoon coriander seeds
salt and pepper to taste
Instructions:
Heat oil in large frying pan
Gently stir garlic, peppers and celery for 5 to 10 minutes, until softened
Stir in chili powder/paste, tomatoes, corn, beans and seasoning.
Bring to boil and simmer for 10 to 15 minutes.
THEN !!!!! Preheat oven to 350 degrees
Spray pan with non-stick spray and place chili corn mixture in it.
Get one of those little boxes of cornbread mix (Washington or Jiffy are good brands – 8 oz. size
Read box, cause you'll need to add an egg and water to the mix
After you mix it together – plop it on top of the chili corn mixture.
Don't worry that it's not entirely covering it all. It spreads while cooking.
Bake until golden brown.
That's one big beautiful YUM.
For more 5 yum delish recipes, join Our Lady of Weight Loss's Kick in the Tush Club/FB!
And–for the full skinny sign up for Janice Taylor's (monthly) Kick in the Tush Club newsletter!
Spread the Word-–NOT the icing!
Janice Taylor, Anti-Gravity Coach, Life Coach, Weight Loss Expert
Weight Loss Expert, Author, Artist, Positarian