Dysfunctional Chef: Mad Men Mac & Cheese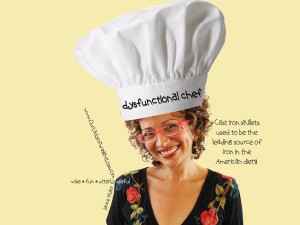 As you probably know (you'd almost have to be dead not to), the season premiere of Mad Men is scheduled for this coming Sunday (check your local listings).  In its honor, I am planning a 1960′s themed dinner, which brings me to the best (and I mean the best) mac & cheese recipe ever.
Our Lady of Weight Loss and I first shared it with the world in our book, Our Lady of Weight Loss: Miraculous and Motivational Musings from the Patron Saint of Permanent Fat Removal.  Along with this "diet" recipe, are instructions on how to make an Our Lady of Weight Loss Mac and Low Fat Cheese altar.  If you don't have the book, you really ought to seriously consider picking up a copy.  Both O, the Oprah Magazine and the New York Times gave the book stunningly good reviews.  I digress …
Here is the recipe, which remains a favorite by many an OLWL devotee!
Our Lady of Weight Loss's DIET Mac & Cheese
Ingredients:
cooking spray
1 16-oz. container low-fat sour cream
1 8-oz. container low-fat cottage cheese
1 16-oz. box elbow macaroni, cooked (per box)
2 cups low-fat cheese, grated (cheddar or low-fat cheese of your choice)
1/2 cup evaporated skim milk
1/4 cup green onion, finely chopped
2 eggs
salt and pepper to taste
1/4 cup bread crumbs
paprika
Instructions:
Preheat oven to 350 degrees.
Spray a casserole dish with cooking spray and set aside.
In a blender, mix together sour cream and cottage cheese, until smooth.
Combined blended mixture with cooked macaroni, cheese, milk, chopped onion, and eggs (slightly beaten).
Mix well and add salt and pepper to taste.
Pour into prepared casserole dish and sprinkle with crumbs and paprika.
Bake covered for 35 minutes, uncover and bake 5 minutes or so more until brown.
Enjoy!!!
For more righteous recipes and to dish the dirt, visit:  Facebook/Kick in the Tush Club.
Spread the word–NOT the icing!
Janice
dictated by OLWL but not read (excuse typos)