Puzzled? How to Unleash Your Inner Goddess?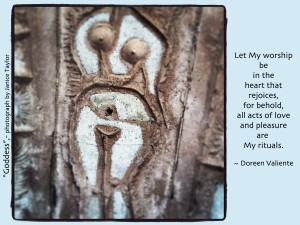 This week's Get Jiggy Weight Loss JigSaw Puzzle, entitled: "Goddess," is inspired by a trip to "Cosanti," the gallery and studio of Italian-American architect Paolo Soleri, which is located in Paradise Valley, Arizona.  The space is overflowing with experimental earth-formed concrete structures, as well as sculptural wind-bells.  Quite the vision! Quite the sound!
Here, a photograph taken by Janice Taylor (that's me!) of the "Goddess" which is sculpted into a domed roof.  Sometimes it pays to look up!
As you click through this week's puzzle, "Goddess," allow your inner-Goddess to surface!   What does she look like?  Sound like?  What are her secret powers?
Share the "Goddess" – Send this week's puzzle in e-card form to a friend!
For more on your inner-Goddess, join Our Lady of Weight Loss's KICK in the TUSH Club/FB!

Spread the word–NOT the icing,
Janice Taylor, Life & Happiness Coach, Author, Artist, Positarian
wise * fun * utterly useful