#OneWord Thursday: Now Is the #TIME!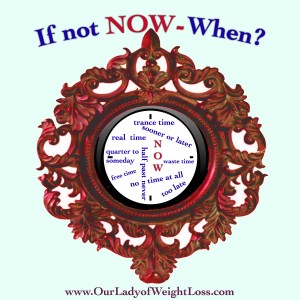 People say that the one thing that is getting in their way of weighing less; one thing that they just didn't have enough of is #Time.
"I don't have the time to go to the store and pick up fruits and vegetables."
"I don't have the time to exercise." 
"I don't have the time to sit and breathe."
"I don't have the time to be positive."
To help you rethink your relationship with time, to help you embrace the now and move into the 'lite,' Our Lady of Weight Loss and Janice Taylor, Life & Happiness Coach, Weight Loss Artist (that's me) offer up a platter full of timeless #Time quotes for you to chew on.
Remember:  There is no time limit on change.  You can change or stay the same. 
#Time Quotes:  "If not now, when?" ~ Janice Taylor
"Time is an illusion." ~ Albert Einstein
"Time you enjoy wasting is not wasted time." ~ Marthe Troly-Curtin
"How did it get so late so soon?" ~ Dr. Seuss
"Time is the longest distance between two places." ~ Tennessee Williams
"Yesterday is gone. Tomorrow has not yet come. We have only today. Let us begin." ~ Mother Teresa
"Don't spend time beating on a wall, hoping to transform it into a door." ~ Coco Chanel
"It's being here now that's important. There's no past and there's no future. Time is a very misleading thing. All there is ever, is the now. We can gain experience from the past, but we can't relive it; and we can hope for the future, but we don't know if there is one." ~ George Harrison
"There's never enough time to do all the nothing you want." ~ Bill Watterson
"Sometimes I feel like if you just watch things, just sit still and let the world exist in front of you – sometimes I swear that just for a second time freezes and the world pauses in its tilt. Just for a second. And if you somehow found a way to live in that second, then you would live forever." ~ Lauren Oliver
"Time is a created thing.  To say 'I don't have time,' is like saying, "I don't want to." ~ Lao Tzu
"The price of anything is the amount of life you exchange for it." ~ Henry David Thoreau
For more timeless weightlessness, join Our Lady of Weight Loss's Club:  Kick in the Tush Club/FB
Spread the word–NOT the icing!
Janice Taylor
wise * fun * utterly useful