Dysfunctional Chef: Spinach and Roasted Pepper Frittata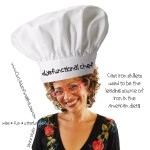 Is there anything better than a Spinach and Roasted Red Bell Pepper Frittata?
Well, maybe – but still, it's a fabulous dish that's not only healthy, low-calorie, and inexpensive, but it serves as a grand main dish!  And … Oh yes, it is delicious!!!
Spinach and Roasted Red Bell Pepper Frittata!
Ingredients:
2 cups red bell pepper, seeds and chopped
3 tablespoons olive oil
1/4 teaspoon crushed red pepper (a.k.a. Pimineta Roja Quebrada)
3 garlic cloves, crushed
4 cups fresh spinach
3 eggs
6 egg whites
1/2 teaspoon dried oregano
salt n' pepper to taste
Instructions:
Heat the oven to 400 degrees F.
Place the red pepper in a large baking dish and drizzle 1 tablespoon of the oil on top.  Season with salt and crushed red peppers , and then toss well.
Roast about 20 minutes until tender.   Voilà, you've got roasted peppers!
Heat the remaining oil in a 9 inch skillet with heatproof handle.
Toss garlic in hot oil, sauté for about 1 minute.
Add the spinach, sauté until wilted.
If there's any excess liquid, drain out of pan.
Stir in red bell peppers.
Beats the eggs with the oregano and season with salt.
Pour over vegetable mixture.
Stir just a tad, allowing the eggs to spread through the vegetables.
Over medium heat, cook for about 10 minutes.
With large spoon, gently pull the edge of the frittata away from the side of the skillet, allowing the uncooked egg to make its way underneath.
When the frittata is firm but still moist, put it under the broiler for 5 minutes, until golden.
Serve hot or warm with a salad and maybe some fabulous whole grain bread.
NOTE:  If the handle on your skillet is not heatproof, wrap it with aluminum foil.  Should do the trick!  Needless to say, I learned the hard way – OUCH – which is why I am The Dysfunctional Chef.
Spread the word … not the icing!
Janice