e-Courses
New e-COURSE coming soon!
Luminous Authenticity:  the joy of BEING…You!
SOLD OUT … The Holiday Diet:  Wake Up Thinner, Happier and More Energized on New Year's Day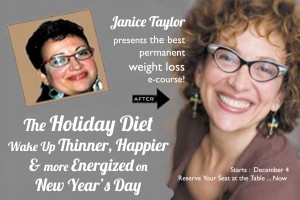 This 28 day e-course (a.k.a. 28 day e-CURE) is scheduled to begin: Tuesday, December 4.  Space is limited: sign up early!
REGISTER NOW:  $59.90
ALUMNI discount:  $54.90
What's it about?
Holiday Weight Gain Triple Whammy:  Food, Feelings, Lack of Sleep
It looks as if the holiday season is one long, tempting food fest designed to make you gain weight, doesn't it?
Food is everywhere.  From the office to the office supply store, from the drugstore check-out to the parties and family gatherings.  Stir in a cauldron of bubbling emotions as well as lack of sleep and you are looking at a triple whammy:  a dangerous platter of food, feelings & exhaustion.
Your Solution: the Holiday Diet
In this 28-day e-Course (a.k.a. e-Cure), Janice will share with you her effective and powerful coaching techniques that she has been utilizing with her clients for the past decade. The Holiday Diet will provide the tools and support for you to:
    End emotional eating
    Control cravings
    Strengthen your commitment to self
    Increase energy
    Stay focused
    Release blocks and obstacles
    Deal with the stress and challenges of the holiday season
    Clear the path to a happier and healthier New Year … and much more!
You will receive:
    A weekly e-Lesson.  The lessons are simple yet profound.  The best way to see results is to give yourself a few minutes of quiet time to read through the lesson, and practice the techniques provided daily.  Again, the tools and techniques provided are simple; nothing overwhelming about this program, but consistency is key.
    A weekly e-Hypno-Meditation.  This is the audio piece of this course.  Albert Einstein said, "You can't solve a problem with the same mind that created it."  A signature piece to Janice's work are her hypno-meditations (hypnotic meditations) that are designed to change the mind.
    A daily e-Blast.  These incredibly positive doses of divine intervention are delivered to your in-box daily.  They reinforce the weekly lessons, provide a daily platter full of motivation, inspiration, as well as a shot of happy, fun energy.
Don't miss out on this opportunity to make it through the holiday season unscathed, AND to permanently blow the fat cells out of your mind.
This powerful 28 day e-Course begins on, Tuesday, December 4, 2012
Space is limited.
SIGN UP NOW
REGISTER NOW:   $59.90
Questions about this e-course, write Janice!  janice@ourladyofweightloss.com